NCEA L3 Photography A
PHT3A
Course Description
Teacher in Charge: Mrs D. Cave-Higgins
Recommended Prior Learning
This is an open entry course. However, experience in Photography or another Visual Arts subject at Level 2 is an advantage.
---
Level 3 Photography - Semester 1 (Code: PHT3A) - UE List A approved
This option is available as a 'taster' course (1 semester only) and towards Level 3, or as a pre-requisite for students who would like endorse in this subject. To endorse, students must complete both Semester A & B.
Introduction to the course includes the development of skills in photography and art thinking. Students are encouraged to draw from their environment and make artworks recognizing the conventions used in photographic practice. Use of studio lighting, time lapse and various indoor and outdoor photoshoots is expected.
Additionally, a research project with L1 Literacy credits attached, may be completed. All developing skills lead towards the 14 credit folio.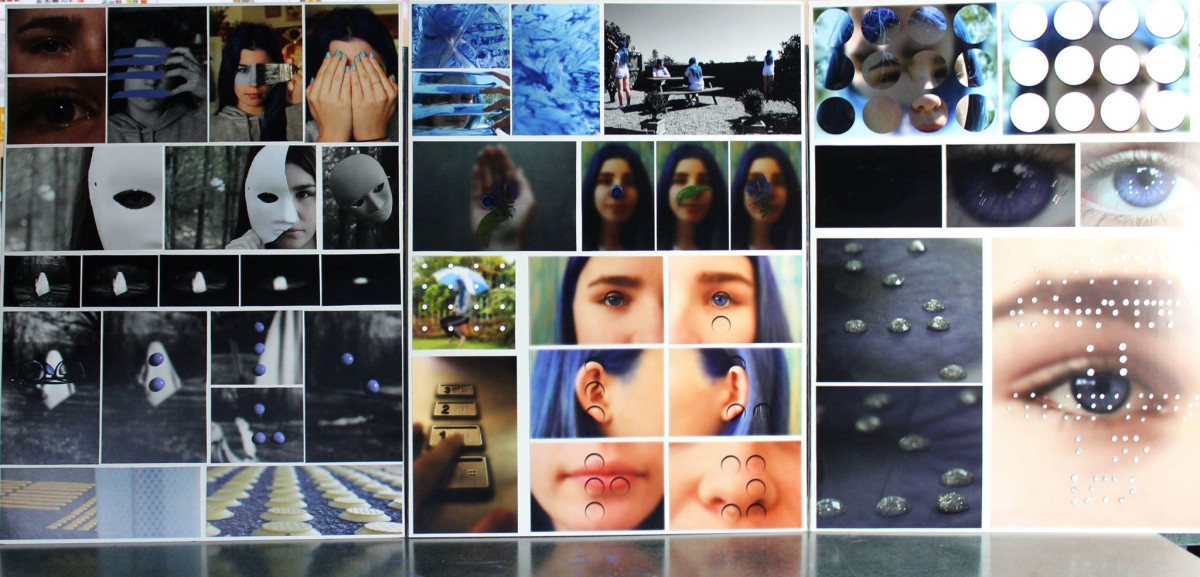 In Semester B, a 14 credit, 3 panel folio may be produced by those who are choose Semester A and B (PHT3A + PHT3B) The planning and successful production of the external folio will allow for 'course endorsement'.
With teacher guidance, every student will produce their own range of ideas and artworks. It will often reflect their interests and aspirations.
Each folio is unique and the student programme is personalized to the suit the individual. It is their ideas and conceptual journey which must be supported by the kaiako / teacher.
Level 3 - Student researching and developing ideas in his workbook
Scholarship, an exam beyond Level 3, is available in this discipline; Photography. Students will 'opt in' and gain regular support and guidance. This is available for anyone who is keen to do what it takes to succeed in a Visual Arts Scholarship submission. We have had many Excellences, Scholarships and Outstanding Scholarships over the recent years. The 'exam' is completed concurrently with the Level 3 years work. Essentially all the gathered workbook information is distilled down to eight A3 pages of inter-connected essence which are submitted in November. (an example page is below)
---
Course Overview
Semester A
Semester A
8 credits - Internals only (3.2 - 4 credits, 3.3 - 4 credits) will be offered.
This is available as a stand-alone 'taster course' or as a gateway to the 14 credit folio (External) and other Level 3 Visual Arts courses.
or
Students who wish to complete the full course 26 credit course, including the14-credit folio (3.4), will need to also select Semester B. (PHT3A + PHT3B)
This enables the availability of course endorsement.

Learning Areas:
Arts - Mātauranga Toi, NCEA Level 3
---
Pathway
NCEA L3 Design B, NCEA L3 Painting B, NCEA L3 Photography B
Students in Level 3 may choose to take more than one Level 3 Visual Arts course. This Level 3 course is UE Approved. It is an excellent option for anyone considering a career in any design or art course. Many of the other knowledge gained through this subject, including the high order thinking skills, are desirable and transferrable at tertiary level.
Career Pathways
Animator/Digital Artist, Diversional Therapist, Aeroplane Pilot, Artist, Tattoo Artist, Film/Television Camera Operator, Fashion Designer, Graphic Designer, Interior Designer, Conservator, Jeweller, Curator, Graphic Pre-press Worker, Visual Merchandiser, Early Childhood Teacher, Exhibition and Collections Technician, Lighting Technician, Nanny/Child Carer, Photographer, Signmaker, Valuer, Garment Technician
Contributions and Equipment/Stationery
Contribution to the take-home components of this course are expected. This will include the materials associated with the folio including specialist papers, printing inks and other folio production costs.
---
Pathway Tags
Animator/Digital Artist, Diversional Therapist, Aeroplane Pilot, Artist, Tattoo Artist, Film/Television Camera Operator, Fashion Designer, Graphic Designer, Interior Designer, Conservator, Jeweller, Curator, Graphic Pre-press Worker, Visual Merchandiser, Early Childhood Teacher, Exhibition and Collections Technician, Lighting Technician, Nanny/Child Carer, Photographer, Signmaker, Valuer, Garment Technician
---