DES2B
NCEA L2 Design B
Course Description
Teacher in Charge: Mrs D. Cave-Higgins
Level 2 Design - Semester B (DES2B)
This is a course designed for students interested in developing Design skills in a visual format. Students will work to develop the ability to process ideas as a designer. Design thinking provides a structured process that helps innovators break free of counterproductive tendencies that thwart innovation.
Freehand and digital drawing skills
Finishing tools including Adobe applications (Photoshop, Illustrator, InDesign)
Graphic design processes
Basic photography
Research & Design Principles
Layout and composition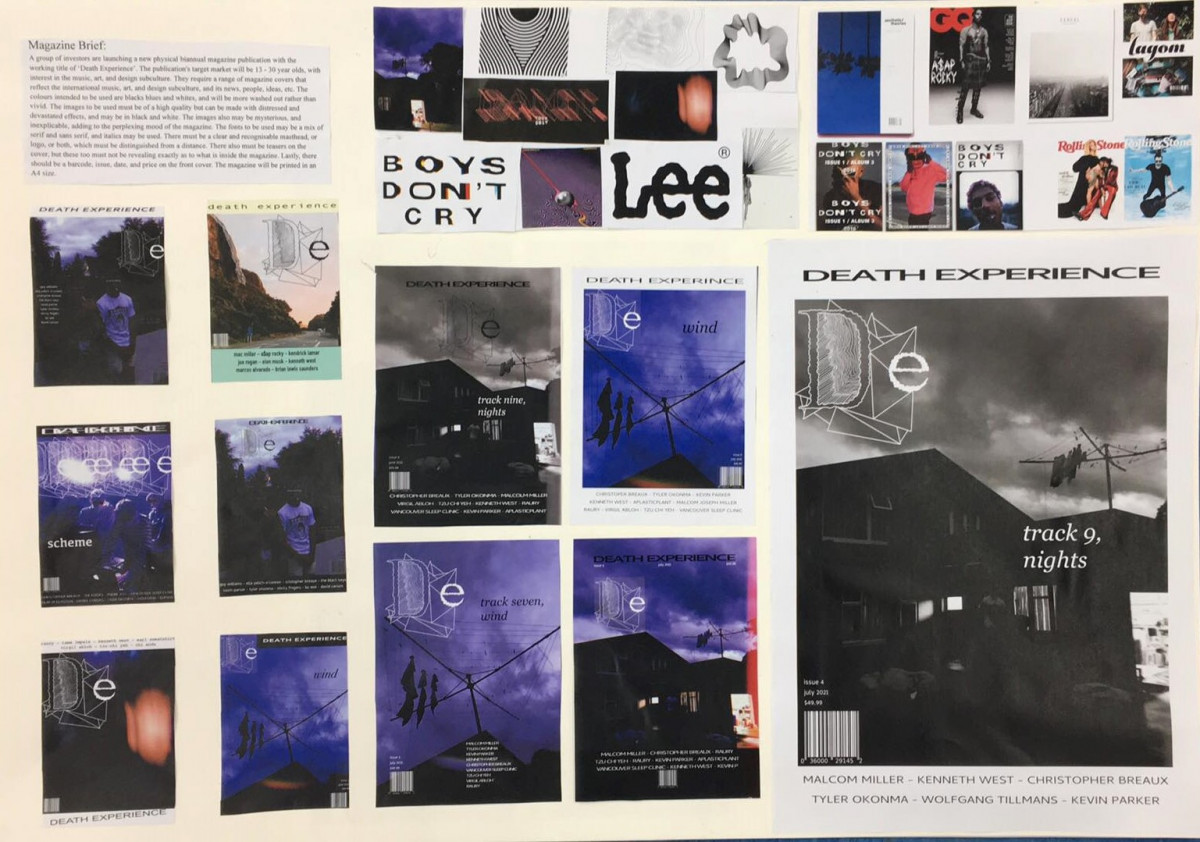 2.2 - Design your own magazine cover - 4 credits
Level 2 design folio (12 credits)
Course Overview
Semester B
Semester B (DES2B) – This includes Internals only (2.2 - 4 credits + 2.3 - 4 credits + 2.5 - 4 credits) UNLESS you have already completed Semester A in Design (DES2A)
If Semester A is already completed, then 2.4 (External =Folio - 12 credits) & 2.5 (Internal - 4 credits) are available.

Students who wish to complete the 12-credit folio (2.4) must also have selected Semester A. (DES2A + DES2B)
This enables the possibility of course endorsement.
Recommended Prior Learning
This is an open entry course. Ideally experience in Visual Arts art at Level 1. However, some level of understanding about Art or Digital Technology would be an advantage.
Contributions and Equipment/Stationery
Contribution to take home components is expected. This will include specialist papers and folio cardboards.
Pathway
Students at Level 2 may take more than one Visual Arts subject.
Credit Information
This course is eligible for subject endorsement.
This course is approved for University Entrance.
Total Credits Available: 28 credits.
Externally Assessed Credits: 12 credits.
Internally Assessed Credits: 16 credits.

Assessment
Description
Level
Internal or
External
Credits
L1 Literacy Credits
UE Literacy Credits
Numeracy Credits
Visual Arts 2.1 - Demonstrate an understanding of methods and ideas from established practice appropriate to design

Level: 2
Internal or External: Internal
Credits: 4
Level 1 Literacy Credits: Y
University Entrance Literacy Credits: 0
Numeracy Credits: 0
Visual Arts 2.2 - Use drawing methods to apply knowledge of conventions appropriate to design

Level: 2
Internal or External: Internal
Credits: 4
Level 1 Literacy Credits: 0
University Entrance Literacy Credits: 0
Numeracy Credits: 0
Visual Arts 2.3 - Develop ideas in a related series of drawings appropriate to established design practice

Level: 2
Internal or External: Internal
Credits: 4
Level 1 Literacy Credits: 0
University Entrance Literacy Credits: 0
Numeracy Credits: 0
Visual Arts 2.4 - Produce a systematic body of work that shows understanding of art making conventions and ideas within design

Level: 2
Internal or External: External
Credits: 12
Level 1 Literacy Credits: 0
University Entrance Literacy Credits: 0
Numeracy Credits: 0
Visual Arts 2.5 - Produce a resolved work that demonstrates control of skills appropriate to cultural conventions

Level: 2
Internal or External: Internal
Credits: 4
Level 1 Literacy Credits: 0
University Entrance Literacy Credits: 0
Numeracy Credits: 0
Credit Summary
Total Credits: 28
Total Level 1 Literacy Credits: 4
Total University Entrance Literacy Credits: 0
Total Numeracy Credits: 0